The Interactive typography piece was my response to the 'Material Type: Physical Language' brief. The task was to pick a phrase related to art and design and then create a physical outcome that enhances the viewer's understanding of the message. The interactive board is a representation of Neville Brody's words 'Digital design is like a painting, except the paint never dries'. Since the quote literally means that digitally generated pieces are changeable, the aim was to create something that could be constantly changed by the people who use it. Another aim was to motivate them to start creating their own outcomes, and that was how the idea of interactive typography appeared.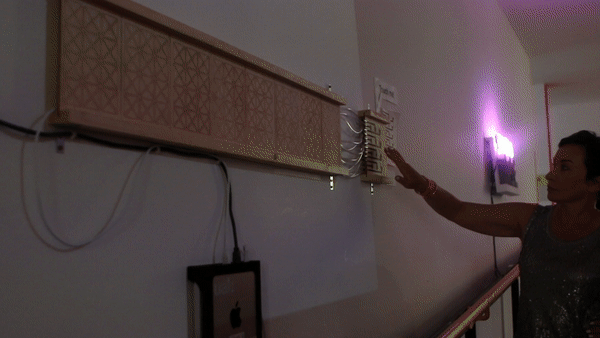 Since the piece was meant to be used to create as many variations of type as possible, I experimented with various geometrical shapes (squares, circles, rhumbs and others) by giving those to different people and analyzing which one works better in terms of quantity and legibility of the letterforms. The best examples were made with squares and triangles (squares cut in half) and that influenced the look of the grid for the final work.
Software:
Adobe Illustrator, Adobe After Effects, Arduino, Processing, MadMapper.
Processes:
Laser cutting, screen-printing, illustration, model making, coding, projection mapping.
Credits:
Adam Corrie (LCC, The Prototyping Lab)
Tom Lynch (LCC, The Prototyping Lab)
Gregor Garber (LCC, 3D Workshop)
Graham Goldwater (LCC, Photography)